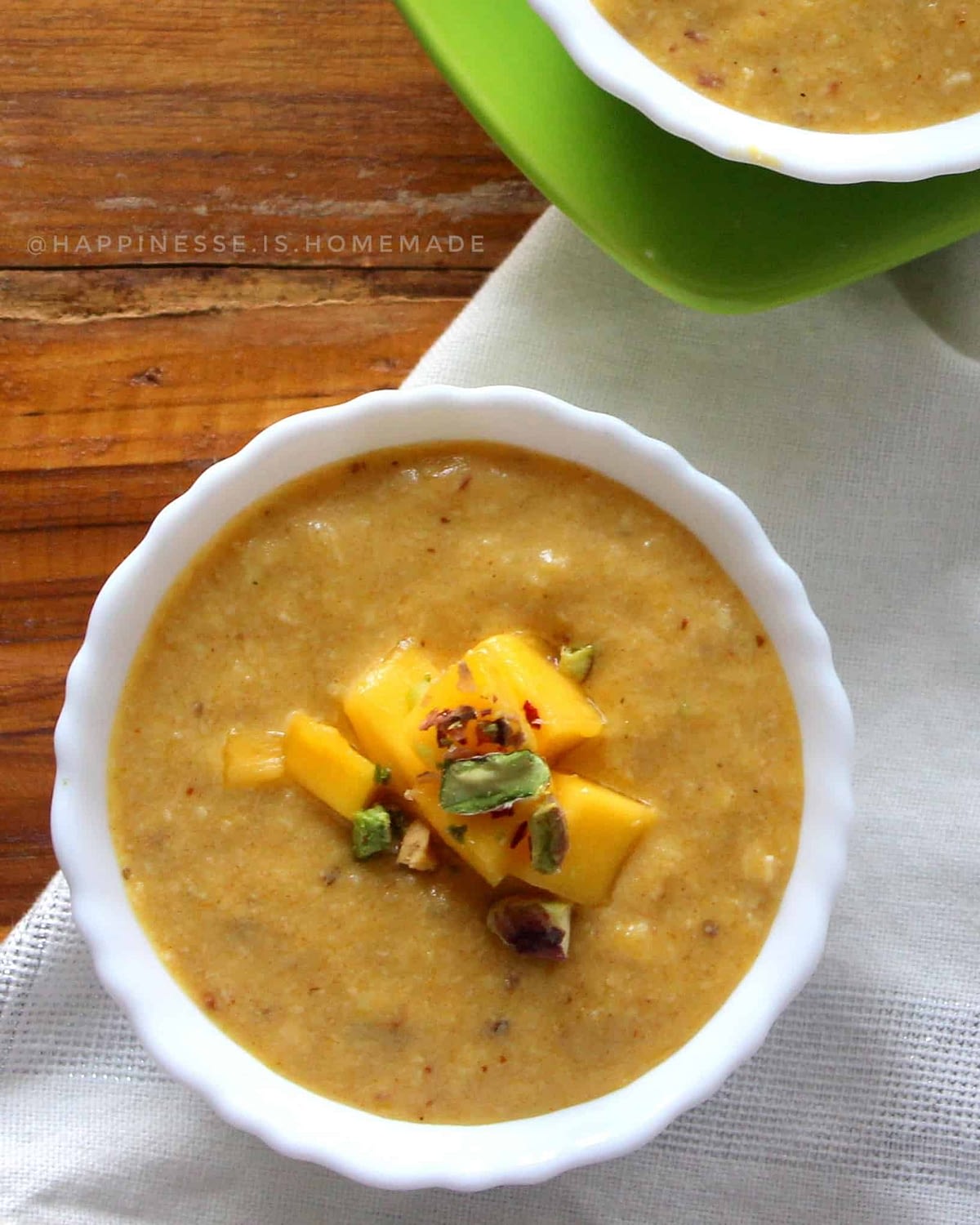 Rabri is a popular North Indian sweet made from milk. Basically rabri is thickened sweetened milk having layers of malai or cream in it. It is flavored with cardamoms, saffron with the addition of dry fruits like almonds and pistachios. I tried to give our traditional rabri a twist with the use of mangoes.
Mango fruit is rich in pre-biotic dietary fiber, vitamins, minerals, and antioxidant compounds.
It is also an excellent source of vitamin-B6, vitamin-C and vitamin-E. Consumption of foods rich in vitamin C helps the body develop resistance against infectious agents.
To make rabri, full cream milk is used to give a rich creamy texture to rabri. Milk is reduced by boiling and stirring it continuously till the milk is thick enough.
Sharing here my step-by-step recipe of Mango mawa rabri. If you have a sweet tooth, do try this out.
Mango Mawa Rabri Recipe
Here is how to make this rich and creamy Indian dessert to prepare for dinner parties at home to leave your guests delighted.
INGREDIENTS
Full cream milk – 1 lit
Mawa/Khoya – 50 gms, grated
Sugar – 1/2 cup
Cardemom powder – 1 tsp
Mango puree – 2 mangoes
Chopped dry fruits – 1/2 cup , almonds, pistachios, cashews
Chopped mango (small cubes) -1/2 cup
INSTRUCTIONS
In a heavy bottom pan, add milk and bring it to boil. Continue to boil on low flame till the milk is reduced to half.
Add grated khoya and keep stirring on low flame till the milk and khoya is mixed well.
Add in sugar and cardamom powder and mix continuously till the milk is thick enough.
Switch off the flame. Add dry fruits and mix well.
Transfer it to a bowl and keep aside to cool it down.
Once it comes to room temperature, add mango puree.
Mix well and refrigerate for at least half an hour.
Take serving bowls, add mango rabdi and garnish with some chopped mangoes and dry fruits.
RECIPE NOTES
Use of full cream is mandatory for this recipe to get that rich and creamy flavour.
You can use dryfuits of your choice.
After mixing mango puree to rabri, refrigerating it is mandatory to combine both the flavours well.