Follow my blog with Bloglovin
Checkout this collection of easy to make fasting recipes.
---
Here you can find some very easy and delicious vrat ki recipes or fasting recipes which you can easily prepare on your fasting days like Chaturthi, Ekadashi, Navaratri, Shravan somvar, etc.
---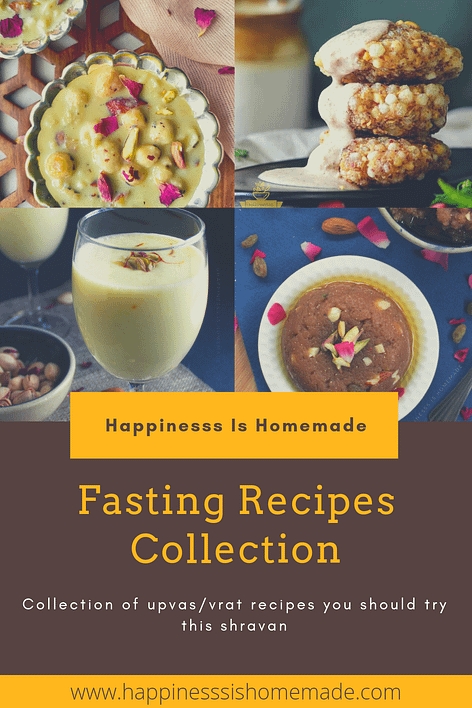 ---
Easy Fasting Recipes
---
Rajgira sheera is also known as Rajgira halwa is an Indian gluten-free dessert made using rajgira or amaranth flour. Rajgira halwa is a very popular sweet usually made during Navratri festival or any other fasting day.
---
Piyush is a very popular beverage in Maharashtrian and Gujarati cuisine. This smooth and creamy drink is made mainly from shrikhand. Shrikhand (a thick yogurt-based dessert) is mixed with curd/buttermilk and flavored with cardamom and nutmeg powder.
---
Sabudana vada is a very popular dish in Maharashtrian cuisine. This recipe gives you a perfect Sabudana Vada that is crispy from the outside with a soft and light texture from the inside.
---
Warp Makhane ki kheer is a delicious Indian dessert made with makhana/fox nuts, milk, sugar, dry fruits and flavored with cardamom powder and saffron.
---
Peanut Chutney | Peanut curd chutney | Farali chutney is an easy, quick, and the best side dish that we can serve with any fasting snacks like sabudana vada, thalipeeth, farali pattice, etc.
Check out other recipes :
If you like this recipe please leave a comment below and feel free to share this recipe on your social accounts. You can share your creations by tagging @happinesss.is.homemade on Instagram. Follow Happinesss Is Homemade on Facebook, Instagram, Twitter, Pinterest.